Hi,
Please check attached image: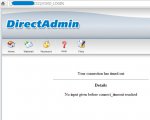 it says:
Your connection has timed out Details: No input given before connect_timeout reached
I see this many times. in admin level and also in user level. in any page it may happen: process monitor, service monitor, file manager and even when I want to save an edited html file!
It happens immediately! no time to wait! when I click on link this message comes in less then a second without any waiting.
Please help me.