Joined

Oct 11, 2011
Messages

134
Hello fellow DA users!
We are a couple of devoted fans and regular users of DirectAdmin living in Sweden. Over the last couple of months we have developed a new skin that we are really proud of.
Here's a screenshot of the administrator dashboard in it: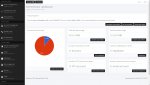 The skin is called "Dixie" after our office dog and here's it's features:
Fully responsive
Responsive design built on Bootstrap 3.0. Works well on smartphones, tablets and computers.
Redesigned navigation
We have merged menu options trying to avoid switching between user levels to get to the right place.
A modern and flat design
It has a modern, flat design that looks clean and stylish without getting in the way of "business". It's also kind to the eyes if you're working in it multiple hours per day.
You can read more about this skin here:
http://www.themeroyals.com/directadmin-skins/dixie/
We have also created a simple YouTube video showing it's design:
http://www.youtube.com/watch?v=pQV3Sw2O-wU
The skin has been developed on DirectAdmin v1.44.0 and tested on Debian 7.
Our plan is to continue developing this skin by releasing new features on a regular basis.
Support is available in our support forums:
http://www.themeroyals.com/support/forum/directadmin-skins-support/dixie/
Documentation is being worked on right now and will be available here later today:
http://www.themeroyals.com/docs/documentation-dixie/
Demo
https://141.255.190.253:2222
demo_user
demo
demo_reseller
demo
Last edited: