I take a lot of infos like:
Code:
This message was created automatically by mail delivery software.

A message that you sent could not be delivered to one or more of its
recipients. This is a permanent error. The following address(es) failed:

XYZ@wp.pl
SMTP error from remote mail server after MAIL FROM:<admin@andriskos.pl> SIZE=8413:
host mx.wp.pl [212.77.101.4]: 554 sorry, refused mailfrom because return MX does not exist

------ This is a copy of the message, including all the headers. ------

Return-path: <admin@andriskos.pl>
Received: from apache by behemot.topportal.pl with local (Exim 4.73)
    (envelope-from <admin@andriskos.pl>)
    id 1UFgGX-0007O5-KF
    for XYZ@wp.pl; Wed, 13 Mar 2013 07:38:25 +0000
To: XYZ@wp.pl
Subject: =?UTF-8?B?T2Rwb3dpZWTFuiBuYSBPc3RhdG5pbyBncmHFgmXFmyB3Li4u?=
X-PHP-Originating-Script: 1002:classEmail.php
FDisplay: Andriskos
MIME-Version: 1.0
Date: Wed, 13 Mar 2013 07:38:25 +0000
X-Priority: 3
X-Mailer: IPS PHP Mailer
Message-ID: <aea6c2cc5e53af1e26e8dd02cd925fcd@andriskos.pl>
From: "Andriskos" <admin@andriskos.pl>
Content-Type: multipart/alternative;
    boundary="----=_NextPart_000_0022_01C1BD6C.D0C0F9F0"
Tose refuses i taka only from one domain (@wp.pl) and i dont know what to do. At end i attached screens from from DNS settings for 2 domains. Please help.
server settings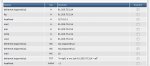 return-path settings