In my original webhost at the user level my package was CPU (and memory) limited and in my user level direct admin package I was able to see how my site did like this: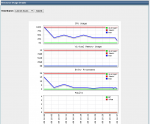 Now I have a VPS with Admin level and I would like to enable this system. So far I have not found the option. The resource usage is not displaying at the userlevel so it seems to be disabled.
Where can I find/configure these settings?
regards