I have tried to update mysql for some time now but it dont work.
I get the error.
Code:
Failed to download http://files.directadmin.com/services/all/mysql/debian/64-bit/mysql-5.6.34-linux-x86_64.tar.gz. Exiting...
If i look into the directory i cant find the file the update tries to find. It's not in the directory. How to solve this? any ideas?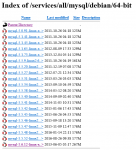 Best regards
Jukka