I'm getting an error message when trying to add a new user and domain via DirectAdmin:
Ftp: Unable to get lock on (null)

Errors encountered while creating domain. Not adding domain to
Error creating Domain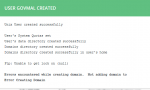 I see the proftpd.passwd file has "owner:user" as "root:ftp". Is that right? Or perhaps the permissions are wrong?

Any help is appreciated!