DKIM => Signature Did Not Verify DKIM => NOT Authenticated
This DKIM problem will probably concern a lot people
, it looks like a TLS problem with the method of DA to verify the DKIM Key
Do not confuse
MXTools DKIM test
which report ONLY 3 lignes :
- DKIM Record Published
- DKIM Syntax Check
- DKIM Public Key Check
With
MXTools deliverability
which report much more things about DKIM with 11 lignes :
NOT OK 1- DKIM Signature Verified SIGNATURE DID NOT VERIFY
2- DNS Record Published DNS Record found
3- DKIM Record Published DKIM Record found
4- DKIM Syntax Check The record is valid
5- DKIM Public Key Check Public key is present
6- DKIM Signature Syntax Check The signature is valid
7- DKIM Signature Identifier Match Signature domain match
8- DKIM Signature Alignment Signature domain in alignment.
9- DKIM Signature Duplicate Tags Signature tags are unique
10- DKIM Signature Expiration The signature is not expired
11- DKIM Signature Body Hash Verified
With this test you will probably get this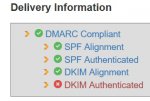 Apparently that's TLS problems, DKIM is OK but not Authenticated correctly !
That's perfect config for make landing emails directly in the spam box of the users : Gmail and Microsoft Exchange, but NOT for the best email deliverability.
Dkim have been activate with DA by
this tutorial
(dkim=2 setting)
PLEASE someboby can give me a feedback with this test just above
Do you get the same result with DKIM DID NOT Authenticated
Last edited: