Hi,
I'm new to directadmin (ex CPanel/whm user). but for some reason i'm getting 550 errors (550 no such recipient here & 550 Verification failed for...) when creating mailforwarders.
I control my DNS via my hosting provider not via DirectAdmin.
I found a lot of topics about 550 errors and that i would have to build exim.conf but is that something i can do via the gui of cumstombuild?
If found these settings in custombuild: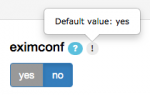 They're both set to no setting these to yes does not change anything.
Is there a guide to setup email on directadmin somewhere?
Hope someone can help,
Thanks in advance