On the login page, there is an issue when i make new en.po file and want that to be load by default - it's not loading.
Instead it is loading the "dictionary.pot" file.
Location: /usr/local/directadmin/data/skins/evolution/lang/
I want to change the default language strings on login page.
P.S. Also would like if i can set the time to 24h clock underneath the login.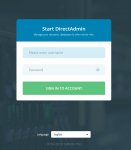 Thanks.
Last edited: