Hi,
Very 1st time on Directadmin. I install clean on Ubuntu svr 22.x, then I install OpenLiteSpeed following
this tuto
.
I check in Dashboard / Show Services and looks its ok and running :

Then I try to access to
I have error page cannot display. I also try
netstat -ntlp|grep 7080
Have this output : (but no idea what this mean...)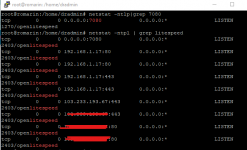 Need a little suggestion here please.