Hi there!
I am having an Issue with Rclone on my CentOS 8 VPS (KVM).
I started working with Onedrive to send all my backups. But Onedrive was very slow (2mb).
It takes about 7h to move 70gb.
So I tried BlackBlaze. Too fast to be true! (150mb). 70Gb moved in 1h. Crazy!
The issue with Rclone using BlackBlaze in my VPS is that It seems to be using to much resources somewhere in the moving process that makes some websites to be down (timeout response) for about 5 min.
I tried looking into logs with --DEBUG and -vv flags and everything seems fine.
Then I looked to NETDATA and saw something strange. Maybe is not real.
But Rclone seems to be using only one cpu for network process (sortirq) and not all the rest of CPUs (6 cores).
So I asked Datacenter and they said it was a software issue because it was only using one cpu to transfer data out of my server.
I do not know why a 150MB transfer out makes websites down (30% CPU usage).
- Is really a Rclone issue?
- Centos 8 issue?
- DA issue?
- Where to start looking?
- I tried changing with flags some settings about files chunked sizes, but not working at all.
Now some NETDATA screenshots: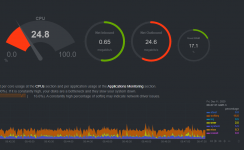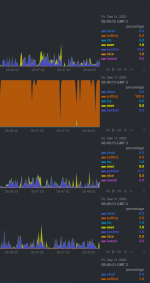 Thanks in advance!