I have an issue with a single account out of 25 that I transferred from one DA server to another. I can't quite figure it out.
After restoring, Outlook returns a server name mismatch on the SSL certificate, with my server name provided instead of the domain SSL. The certificate installs on the domain but reports "cannot get lock on %s/snidomainsopen error for /snidomains.lock: no such file or directory" (last line below). Could this be the issue?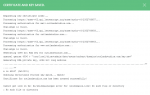 Any idea on the /snidomains.lock file issue? Or why the certificate (and only this domain's certificate) is returning the hostname certificate?