Hi!
Suddenly, all the accounts of this reseller where suspended because the bandwidth exploded. No alerts went off or websites down. 4 core 8GB vps. This message is from a bit passed midnight (8 nov 00:11). Noticed nothing of high traffic during the day or evening.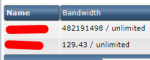 Now i set the max to unlimited.
Message:
This is an automated message notifying Reseller XXXXXX that 22991.2 % of their bandwidth has been used up.
It is estimated, at the current rate of use, that the account will be used up in -8.0 days, at which time the account will be suspended for the remainder of the month.
The server Admin and Reseller should contact each other if this is an issue.
Automated Message Generated by DirectAdmin 1.59.4
Network stats from the vps hosting company:
Any one a clue? Nothing registered.. A DA system bug?
Thanks