Update: 6th May 2021
- new version of Daflare - v0.11.2b - details in the
post below
Daflare Standard: DirectAdmin to Cloudflare DNS Sync.
Sync DNS from DirectAdmin to Cloudflare
Create / Update / Delete DNS records automatically using the standard DirectAdmin tools
Enable/disable Cloudflare proxy for all, none or selected records or record types
Admin can edit configuration using the Daflare Control Panel
Add custom Cloudflare account and configuration per-domain (Admin only)
Share a single Cloudflare account with user accounts you manage
Allow/block users from using the shared Cloudflare account
Quick and easy installation via plugin manager
With many people using my previous Github project (
directadmin_cloudflare_dns
) it was time to add some features and release it as an easily installable plugin for DirectAdmin.
The wonderful Simon, of
vpsbasics.com
, has updated the review he did on the original Github project, to cover the new plugin. As with his other incredibly helpful tutorials, he gives clearly illustrated,
step by step instructions on how to install and configure daflare
.
All the details, and the plugin, can be found at
daflare.com
Please feel free to give any feedback or feature requests.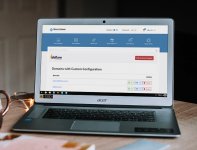 Last edited: