Joined

Mar 16, 2023
Messages

17
Hello ,
We have purchased a server with the following specifications.
| | |
| --- | --- |
| CPU: | Intel Xeon E5-1650 v4 - 3.6 GHz - 6 core(s) |
| RAM: | 64GB - DDR4 |
| Hard Drive(s): | 1x 1TB (SSD SATA) |
| Bandwidth: | 150TB @ 1Gbps |
We would like to be able to split it in two, one part for Directadmin and the other part in reserve for lab testing.
We tried to install DirectAdmin under Proxmox in CT but it gives us a major problem at user creation.
''error with system quotas''
We have searched as much as we could on the problem but found nothing.
The question I have is?
Do you suggest creating a KVM under Proxmox or Vmware KVM.
I'm a little confused as to how I'm going to solve my problem without affecting the performance of the website I'm going to allocate.
Here is the image about Error with system quotas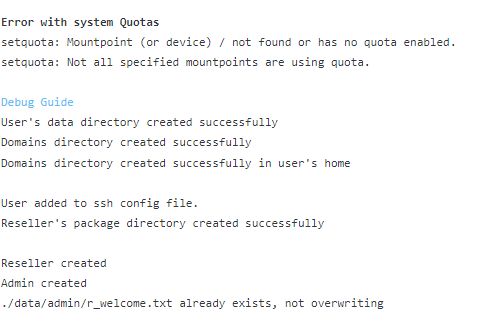 Info :
When i type : cat /proc/mounts | grep ' / '
I have this result : /dev/mapper/pve-vm--101--disk--0 / ext4 rw,relatime,stripe=16 0 0
Thanks for all suggestion.
Last edited: