Hi there!
I am an old Cpanel user trying to migrate about 100 accounts to this incredible web control panel as soon as possible.
One of the things I like is simplicity and low resources.
I am trying DA with a Trial License on a small VPS (2 cores + 2g ram) and one of the things I really searched first day was realtime stats. No answer.
I discovered NETDATA in this forum and blowed my mind. I installed it in my current server and works very smooth. I did the same on my DirectAdmin small VPS (CENTOS 8). Everything was great, working fine on port 19999. So, I realized that on DA 1.61 NETDATA was going to be inside DA menu. So I thought: this is going to get better!
So I updated DA to 1.61 and tried to reinstall NETDATA using CUSTOM BUILD. Installation fine, port changed to: 2222 (only visible inside DA). Great!
But when I open new NETDATA window over 2222 port with /CMD_NETDATA_SOCK url CPU % was getting higher than ever.
NETDATA CPU was about 2% max. But a new user "NOBODY" on "Users" menu inside NETDATA was consuming more than 40-60% CPU. What?
After using CUSTOM BUILD (visible on port 19999), total CPU utilization was about 1-3%. Before CUSTOM BUILD (NETDATA inside DA over port 2222), Total CPU % was more than 30% due to this "NOBODY" user.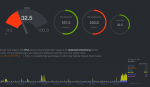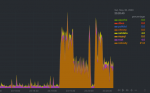 This big difference over cpu utilization is only when I am looking at NETDATA real time window on Chrome (port 2222 from DA).
Is this issue related with my "direct" installation over CENTOS 8 before using CUSTOM BUILD with DA 1.61?
Which should be my next step? unninstall? change port to default?
Thanks in advance!