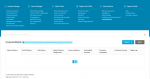 Custombuild is not working, it is stuck and shows a message:
"Script /usr/local/directadmin/custombuild/build appears to be 0 bytes."
In the enhanced theme it showed the following message:
"This plugin is compatible with CustomBuild2.x only."
I reinstalled it like this:
cd /usr/local/directadmin
mv custombuild custombuild_1.x
wget -O custombuild.tar.gz
http://files.directadmin.com/services/custombuild/2.0/custombuild.tar.gz
tar xvzf custombuild.tar.gz
cd custombuild
./build
./build all d
./build rewrite_confs
After I reinstalled it, it worked, but all my websites got an error:
"Error Establishing a Database Connection"
I restarted the server, Custombuild didn't work anymore and showed the same messages again.
And I couldn't access my websites.
I had to restore a backup.
CustomBuild is still not working.